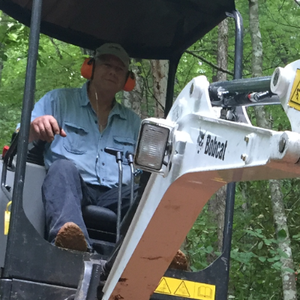 Owner/operator Contour Trail Design Company
Knoxville, Tennessee, United States
Like many PTBA members I started out as a trail volunteer. In 2007 I founded and was the first president of the Appalachian Mountain Bike Club in Knoxville, TN. We were lucky enough to have the PTBA conference in Knoxville a couple of years ago.
As a trail volunteer we organized work days to design, build and maintain trails in and around Knoxville. Our volunteer work days average 40+ people. AMBC has built many miles of trails over the last 11 years. After a few years we started using machines to build. My job at the time allowed me to build all winter. Soon I started machine building full time as a subcontractor for the club.
In 2016 my wife and I decided to start our own trail building company. On Jan 1 2017 we incorporated as Contour Trail Design Company.
In our first year we have had many interesting jobs. We have designed and built 5 miles (so far) of green bike trail at a very upscale resort, built pump tracks and 1/3 mile trails at two different Boys and Girls Clubs, designed and built 1/2 mile of trail with a 300' stone staircase on a monastery, built and designed trail for a local nonprofit and built and helped design trail on private property with PTBA member Barry Smith.
In 2017 Contour Trail Design Co became the first trail specific licensed trail contractor in Tennessee. At that point Tennessee had no trail building category contractor's license.
| | |
| --- | --- |
| Phone: | 8657195111 |
| Email: | connerr@bellsouth.net |
| Street Address: | 3606 Kesterwood Dr |
| Address 2: | |
| City: | Knoxville |
| State/Province: | Tennessee |
| Country: | United States |
| Zip/Postal Code: | 37918 |